Spring Break is Right Around the Corner!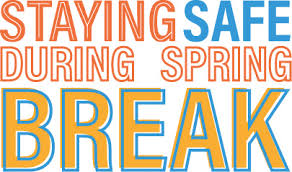 As we begin February, it is truly crazy how quickly our school year is going by! Feels like a week ago we were entering our first quarantine, and yesterday we began our new school year with new regulations. Before we knew it, Christmas break came and gone! Now, in a short seven-week period, spring break will start! Spring break is my favorite time of year as it symbolizes summer on its way and a new season. With new Covid restrictions, most of us will not be on our annual spring vacations or at our large Easter parties, but we can still enjoy our break! 
For my family, spring break usually means a week trip to Florida, Easter breakfast in Disney World, and countless hours by the pool. For 2020 spring break, everyone was at the start of quarantine, and for 2021 spring break, much has changed but we still need to be safe. For myself and my family, it means pushing back our vacation to summer, having a much smaller Easter gathering, and avoiding big groups.  
This spring break will be different than the ones before, no doubt about that! However, there are countless ways to still have fun. Remaining in smaller groups, wearing masks, and following all regulations can help us still stay with our friends and loved ones to start spring! We can still hang out as long as we are always safe! If your family or friends are not comfortable with hanging out it is completely alright, zoom calls, Facetime, skype calls, or any other video chat still present lots of fun! Various activities or even just chatting will help it feel like a normal Easter! If we stay safe now, we are more likely to have a normal summer.  
Going outside, staying in contact with friends, and having a genuinely fun time this spring break is still achievable! It is extremely important we still focus on the positives as spring draws close. So, start the countdown and continue with your homework, because spring is just 7 weeks away! And just a few after that, summer vacation!