IHSA Music Competition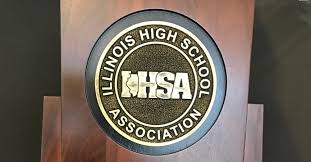 As the Providence community knows, all forms of sports, music, and school activities have been drastically altered due to the pandemic. Some seasons have even been canceled and many people are losing hope in the possibility of competition for the activities they love. However, this situation has also called for new solutions so that students nationally can participate once more. Recently, Band and Choir have received word of new configurations of the Music IHSA Competitions. In interviews with the Band and Choir Directors as well as a student perspective, we take a look at the new solutions. 
Mr. Roger, the Band Director of Providence recalls how "a typical year for music contests would consist of students traveling to other schools who are hosting the contests.  We register for the events, receive a schedule for the day, and then students prepare for their event in the coming weeks leading up to the contest." This year however the IHSA will be hosting a virtual contest which is similar to the Marching Band's successful fall season. Each contestant or ensemble will record their piece of music which will then be scored and commented on, or adjudicated, by judges. The highest rating one can receive is 1st Superior, and as a way of honoring Providence students who achieve this, they will perform at the annual "Music Ensemble Night." However, Mr. Rogers vehemently acknowledges that awards are simply a highlight of the strenuous work they dedicate and that his "only hope or expectation going into any contest (for any of my ensembles or student groups), is that they grow stronger as a musician and enjoy the moment they are in during the performance." He believes that "working hard to put on a memorable performance and having fun in the process is the goal." 
For Choir IHSA Competition, Dr. Eckert, the Providence Choir Director explains how previous years' competitions occur. "IHSA Solo and Ensemble competition usually occur on the first Saturday of March. Traditionally, schools throughout the state are assigned a competition site at a host school and travel to that host school to compete all day.  At the host site students compete in many events. The range of ratings goes from a I (one) to a V (five).  For a SUPERIOR rating or I (one), students receive a medal and add points to the overall IHSA school competition. No other rating receives a medal. Last year, we brought back 64 Superior medals." While this is a rewarding event, it is also high-stress day in which they must memorize pieces, sing any tonal skill the judge requests, sing solos, run between rooms for events, and dress nicely. 
This year however, IHSA has chosen to organize a virtual event, though it is not live. Thus, they have eliminated specific events such as tonal skills and the use of a piano accompanist. These videos are due by March 4th for a weekend-long adjudication. "What hasn't changed is that students must purchase music and number every measure. If they deviate from what is on the page, they must notate that deviation for the judge.  A scan of the music must be uploaded for the judge to follow as the video is played." 
This year for the competition, "we are entering two vocal choirs. One is a mix of Concert and Honors Choir members singing "Stand Together" by Jim Papoulis. Papoulis loves to incorporate elements of world music (or music of other cultures) into his music.  The other is a Vocal Choir featuring Honors Choir singing "Who Is There Like Me" which is based on a saying from the Winnebago Indigenous Nation based in Wisconsin. Currently, I am working out logistics in accordance with the CDC Protocols which do allow us to sing with masks for up to 30 minutes. We will be using room mics to pick up the sound for the video. It will certainly be challenging, but we're up for the challenge." 
Finally, from a student perspective, senior Kate Koszulinski tells of her excitement for the competition. "This year has definitely been different and a challenge, but it's still so great we have the opportunity to participate in this! I'm excited to still be able to compete with the choir, senior year wouldn't be the same without it! This year, we are sending in video auditions by the deadline, and we only need to do our selected songs, no scales, or triads. Instead of receiving our scores within the hour, we will have to wait a week, but it will be so worth it!" 
So, though there are some key differences in the form of competition this year, it appears that both the moderators and students of the activities are looking forward to a sense of normalcy and the thrill of competing again!