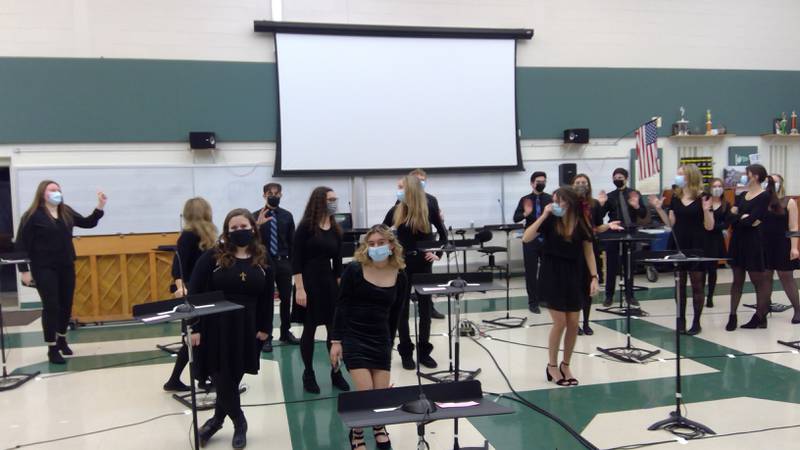 Music students at Providence  earned 66 first place medals at the recent IHSA Solo and Ensemble Competition in Music.
The music students earned 66 superior (first place) awards and four excellent (second place) awards.  The students also had three performances selected as Best of Day.  "That means of all the students judged by our site judges, those chosen 'Best of Day' were the best they heard," Stacy Eckert, director of choirs, liturgical music and theater, said.
Lawrence Rogers, director of bands, agreed.  "We are extremely proud of these students, for a year where performances and rehearsals faced more hurdles than ever before, these students have put in an incredible amount of work to compete. To have such success in such a different year is something we are just so proud of and grateful for."   The Marching Celtics band members had 12 solos and percussion ensemble. The choir had four solos as well as three duets.  These duets included the treble ensemble of Chloe LaBine and Isabella Markel, the treble ensemble of Paige Shepherd and Cecilia Santschi and the mixed ensemble of Chloe LaBine and Adam Jostes.
The two vocal choirs had members of the Singing Celtics and Providence's honors choir. Eckert said she was proud of them, too. "They never rehearsed together prior to filming the video entry," Ekert said in the release. "That night was the first night any of them had sung together in a year – and they received superiors!"
Eckert said students recorded and submitted the entries this year. In the past, students would choose songs, rehearse them and then attend the event in person at the host school. The event would be begin at 8 a.m. and continue until 5 or 6 p.m., Eckert added.  Students are judged on "tone quality, phrasing, performance, musicality, correct notes, and rhythms," Eckert said in the release, along with "diction, memorization, ensemble with the accompanist and how well the overall mood, emotion, and performance of the text was affective" for vocal pieces.  Also this year, the Marching Celtics earned a state championship, seven music students were selected to the ILMEA District 1 music festival, two students were chosen for All-State Music Festival and one student selected to All-State Theatre.