BLACK HISTORY MONTH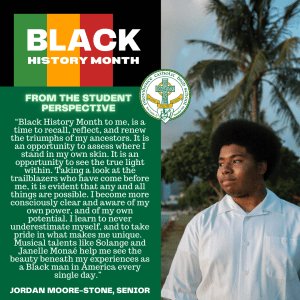 This February, Providence is celebrating Black History Month with activities across the different departments. The idea of Black History Month was first proposed by Dr. Carter G. Woodson, a Black historian who established Black History Week in 1926. In 1976, Black History Week became Black History Month, which was celebrated in February, the birth month of Abraham Lincoln and Frederick Douglass. It has continued to be celebrated ever since, with the theme for 2022 being Health and Wellness. In the spirit of Black History Month, the Proviscope will be highlighting the achievements of some unsung African American heroes.
Phillis Wheatley (1753-1784) was the first published African American female poet. Born in West Africa around 1753, Phillis was kidnapped by slave traders in 1760. She survived the horrifying journey across the Atlantic, arriving in Boston in 1761. There, she was sold to Susanna Wheatley, the wife of a Boston merchant, who took her on as a housemaid. After discovering Phillis's incredible intellect, Wheatley and her husband, John, introduced Phillis to great literature, and, at the age of thirteen, Phillis began writing her own poetry. She became famous, traveling to London to meet nobility who enjoyed her poems. Most of her poetry focused on religion and the plight of enslaved Africans. Later, she began writing poems in support of the American Revolution. Wheatley often faced prejudice from people who did not think that she could have written her own poems, but despite this, she was able to gain support from some of the most prominent people of the time, including Benjamin Franklin and George Washington.
William Still (1821-1902) was a conductor on the Underground Railroad, the network to help enslaved people escape to freedom. His own parents were formerly enslaved, and his mother had herself escaped from her enslaver. As an adult, Still worked for the Pennsylvania Anti-Slavery Society, lobbying for cases dealing with civil rights, such as the desegregation of Pennsylvania's public transportation. He also kept records for nearly eight hundred people who utilized the Underground Railroad. These records helped many reunite with their families, including William Still, who once took the records for his own brother, Peter. He later wrote a book, The Underground Railroad Records, which is still useful in helping historians understand the Underground Railroad. Throughout the rest of his life, he remained an active philanthropist, giving money to help those formerly enslaved and to aid Black youth.
Claudette Colvin (1939-Present) was actually the first African American to be arrested for refusing to give up her bus seat to a white person in Montgomery, Alabama. She was arrested nine months before Rosa Parks, who was Colvin's mentor. However, Parks was chosen as the face of the Montgomery Bus Boycott because Colvin had loudly protested against her removal from the bus. Most of the charges against her were dropped shortly after her case went to court, but the final charges against her were only dropped in December 2021. In addition to that case, Colvin was also politically active with the National Association for the Advancement of Colored People and dreamed of being the first female president. In the time of the Civil Rights Movement, she did not receive much recognition, but now, her story is becoming more prominent, with Spark, a biopic about Colvin, coming soon.
Through the lessons of these three brave African Americans, we can learn that by using your talents and by standing up to discrimination, you can make a difference in the lives of others. Be creative, be kind, and be bold because you can change the world.