Providence Catholic Inducts National Honor Society Members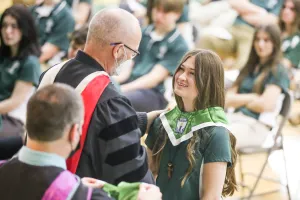 The criteria for membership are rigorous. Students with a cumulative Grade Point Average (GPA) of 3.50 and above, and students who are in grades 11 and 12 are eligible to apply for membership.Students must also be able to demonstrate excellence in the areas of leadership, service, and character. The National Honor Society is the nation's premier organization established to recognize outstanding high school students. As members of the Providence Catholic Chapter, these students will engage in a variety of service activities benefitting the school and surrounding communities."Being inducted into NHS at Providence Catholic is as much of a recognition as it is a commitment to servant-leadership," says Kevin Oliver, NHS Moderator. "These newly inducted NHS members will be expected to continue their excellence and will be pushed to do even more for our community."

Photo –Senior Bailey Griffis receives her stole from Dr. John Harper, Principal.