HARVEST DRIVE HISTORY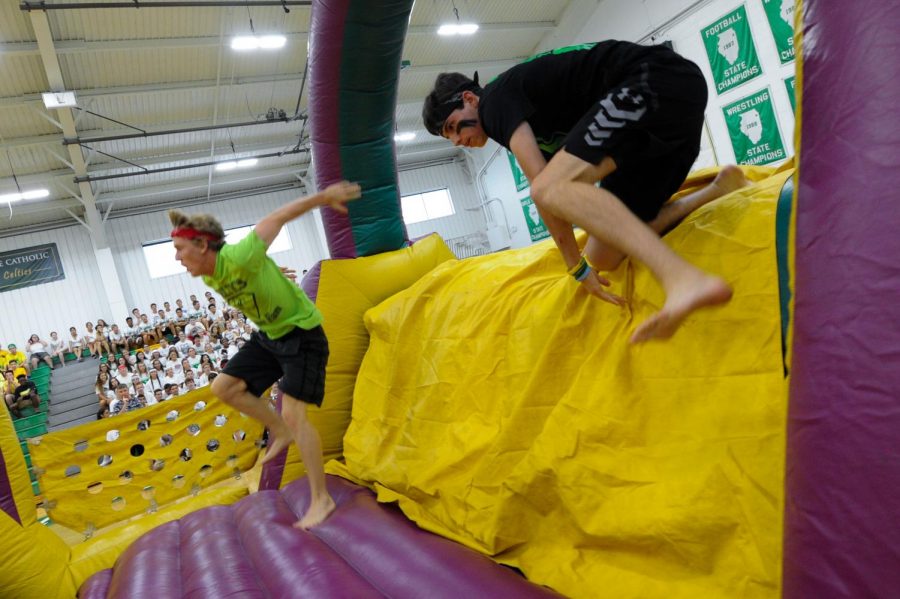 Harvest Drive Office,
September 10, 2019
Thank you Celtics for making the 2019 Harvest Drive a huge success! Our fundraising goal this year was $285,000. With everyone's help, we have been able to raise $286,642. The grand total for Harvest Drive may continue to increase with money that comes in late and money that is forthcoming for ad listings.
Did you know that the PCHS Fall Harvest Drive was initiated in 1968 in an effort to raise funds for Providence, which was facing a serious financial crisis? To prevent Providence from closing its doors, the school held a car raffle and carnival that generated $15,000 the first year and $32,000 the following year. Encouraged by the results of this fund-raising effort, Bishop Blanchette made a decision to keep the doors of the school open.
Since then, the Fall Harvest Drive has become an annual mandatory fundraising event that involves the participation of the entire Providence Catholic community. Income generated through the Harvest Drive is vital to the financial stability of the school; proceeds are built directly into the school's operating budget.  Thanks to the support from the local community and area businesses, Providence is able to keep tuition increases at a minimum and still provide an outstanding college preparatory education to its students.
Harvest Drive 2019 results!
Grand Prize: $10,000—O. DiCola
1st Prize: $2,000—L. Gacek
2nd Prize: $1,000—B. Jeffries
3rd Prize: $500—K. Sullivan
4th Prize: $500—C. Jablonski
5th Prize: $200—D. Clarke
6th Prize: $200—D. Clarke
7th Prize: $200—M. Kozol
8th Prize: $200—K. Crowley
9th Prize: $100—A. St. Paul
10th Prize: $100—S. Jones
Individual Top Sellers for 2019
Sophomore: Madison Hogeveen—raised $2,850
Freshman: Easton Gotts—raised $1,400
Junior: Nicholas Warren—raised $1,000
Senior: Gavin Delrose—raised $940
Sophomore: John Serritella—raised $860
Top Family Sellers
The Kozol Family (Mikayla and Brooklyn)—raised $3,000
The Santschi Family (Anna and Cecilia)—raised $1,600
The Laakson Family (Justin and Joshua)—raised $1,290
The Bucciferro Family (Dominic and Julia)—raised $1,100
The Lab Family (Abigail and Connor)—raised $1,010