Fall Recipes Galore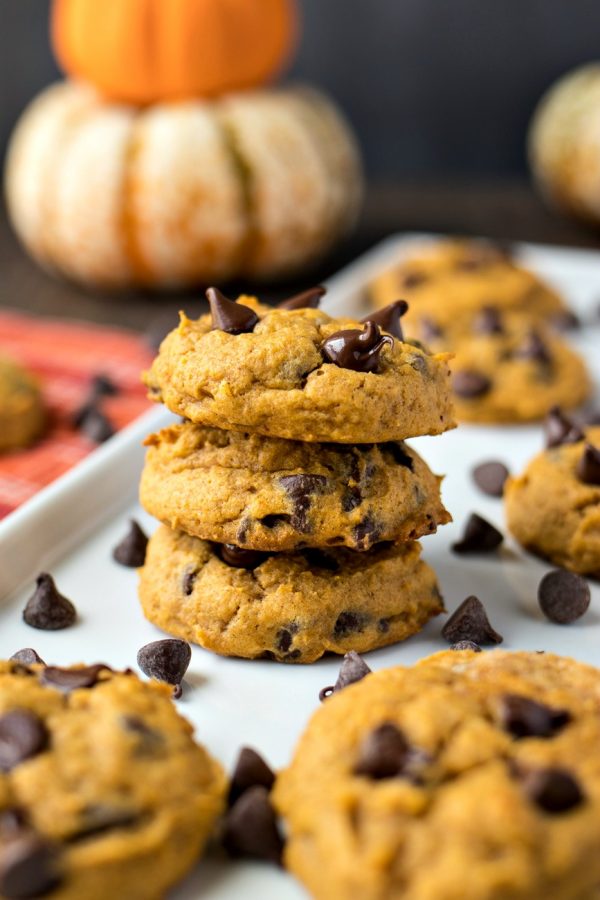 Pumpkins on porches, leaves turning orange and red, and hundreds of costumes being stocked in stores can only mean one thing: fall is here! One of the most enjoyable aspects of fall is the appetizing, traditional food. Thanksgiving is just one example of the way we enjoy tasty foods during this season but baking delicious treats is another! With the help of my sister (who's a young baker in the making), we found some of the best, most exciting treats to enjoy this fall.
Pumpkin Chocolate Chip Cookies
This is a very simple and short recipe that tastes delightful! To start them off you are going to want to mix ½ a cup of melted butter, ¼ cup of brown sugar, and a ½ a cup of granulated sugar in a bowl. Then whisk in a teaspoon of vanilla sugar and six teaspoons of pumpkin puree until smooth and set aside. Mix ½ of flour, ¼ teaspoon salt, baking powder, and baking soda, 1 and ½ teaspoons of ground cinnamon ¾, and a teaspoon of pumpkin pie spice. Mix the wet and dry ingredients along with chocolate chips, chill the dough for thirty minutes, bake in an oven preheated to 350 degrees for 10-12 minutes, let them cool, and enjoy!
Pumpkin Pudding
This recipe is just as easy as the cookies, if not simpler! And it's just as scrumptious! Start off by mixing 2 (3.4-oz.) package of instant vanilla pudding mix, 1 (15 oz.) can pumpkin puree, three cups of whole milk, ¼ cup of brown sugar, and two tablespoons of pumpkin pie mix. Let it sit five minutes to thicken. Put it in your serving dishes, set it in the refrigerator for an hour and top it with some whip cream to finish it off.
Maple Pecan Blondies
Finally, are these mouthwatering treats that tastes like the season itself! Preheat an oven to 325 degrees, and grease a 9×13 inch pan, lining it with parchment paper. Whisk together two cups of flour, one teaspoon of baking powder and cinnamon, ¼ teaspoon of baking soda and salt. In a pan, melt together 2/3 cup of unsalted butter, two cups of light brown sugar, and let them cool for then minutes. Add two eggs and a teaspoon of vanilla extract to the butter mixture. Mix your butter and flour mixture well, fold in a cup of ground pecans, and scoop the batter into the pan, covering the top with more pecans if wanted. Bake for 20-22 minutes, let them cool, and for an optional glaze, mic together two tablespoons of maple syrup and a cup of sifted powdered sugar. Then you're done!