PCHS Announces Students of the Month for September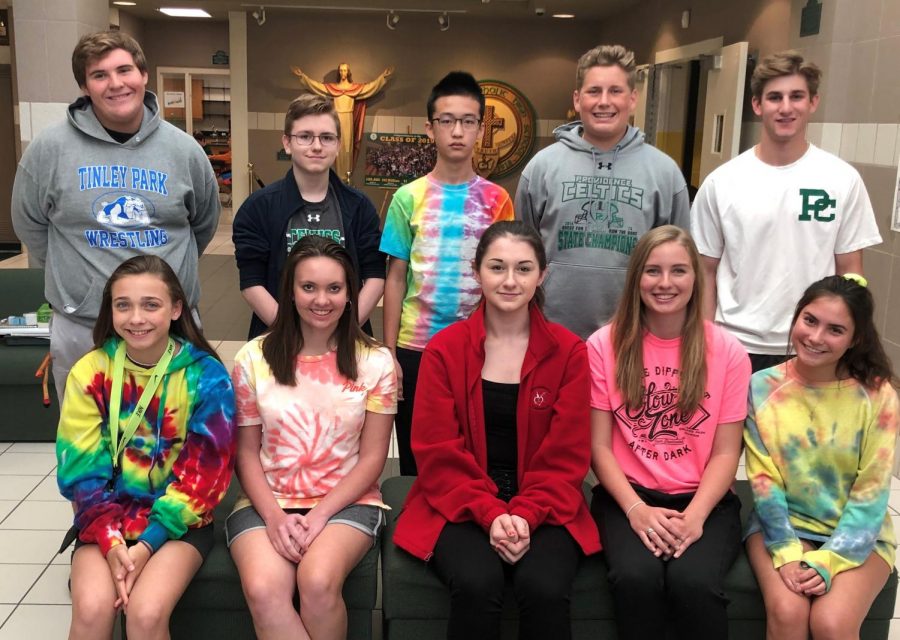 NEW LENOX (September 2019) – During Homecoming Week festivities Dr. John Harper, Principal of Providence Catholic High School took the time to announce and meet with the school's "Students of the Month" for September. "These are students who were recognized by our faculty and staff for achievements and/or significant improvements in school coursework as well as excellence in other school-related activities. We are very proud of these students," said Harper.
Every month, each academic department chairperson selects one student as its "Student of the Month" from a number of students nominated by faculty and staff. Students of the Month receive a certificate of recognition, have their photos displayed in Providence Catholic High School's main hallway for the following month and are invited as a group to have lunch with the Principal.
The Providence Catholic Students of the Month for September 2019 are:
SITTING (Left to Right): Gwen Cantu '23 of Joliet (Physical Education), Maggie Parham '22 of Lockport (Fine Arts), Cameron Sicinski '23 of Joliet (World Language), Katianne Soltys '22 of Orland Park (Theology), and Soleil Watanabe '21 of New Lenox (English).
STANDING (Left to Right):  R.J. Schneider '22 of New Lenox (Computer Science & Tech), Connor Todd '22 of Orland Hills (Mathematics), Lambert Fa Yan '22 an international student living in New Lenox from Beijing, China (Social Science & Business), Sean Dee '23 of New Lenox (Science), and Ben Vitas '20 of Joliet (Administration).