BACK TO THE 80s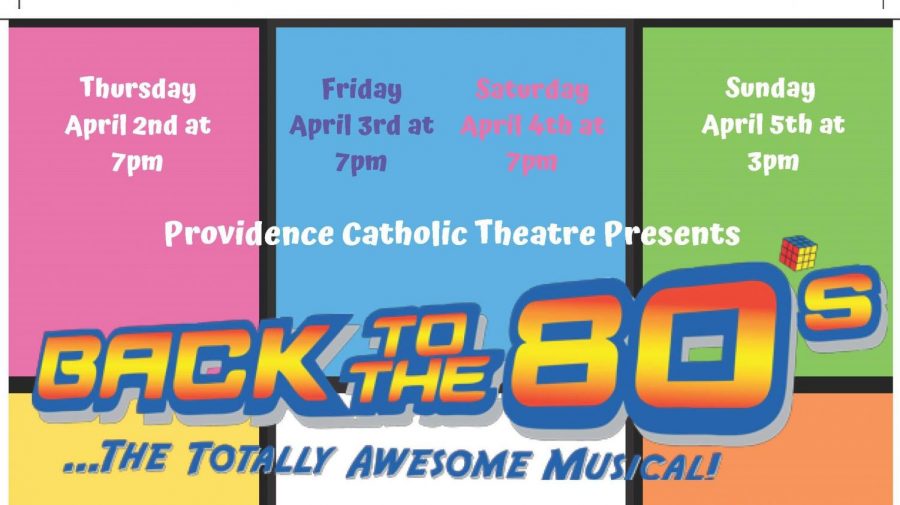 Save the date for the spring musical! From April 2 through 5, Providence Catholic High School will be putting on a production of Back to the 80s at Bicentennial Park Theatre in Joliet. Dr Eckert, the directing team, the cast, the crew, and the pit of the Providence Theatre Department have been working very hard to put on a wonderful production for our community.
This exciting musical follows Corey Palmer, a man living in the year 2000, as he tells his story about his high school career in the heart of the electric 80s. Therefore, most of the show consists of flashbacks, showing Corey as a young 17-year-old senior at William Ocean High School.
However, the audience will not just get to know Corey Palmer. They will get to know the lives of the cheerleaders, the jocks, the nerds, the new girl, the outcasts, and Tiffany Houston, the literal girl next door whom Corey has had a crush on since childhood. What will go down at the class president election? Who will go to prom together? What kind of high school stereotypes were going around in the 80s?
The show includes performances of fun popular songs from the 80s such as Material Girl, Man in the Mirror, Kids in America, and I've Had the Time of My Life.
If you enjoy 80s music and want to support student performers from Celtic Nation, come enjoy this amazing show during the first weekend in April!  Providence students are free with an ID for all performances. Tickets for Providence students can also be purchased with an ID during lunch the week before the show.