September Book Reviews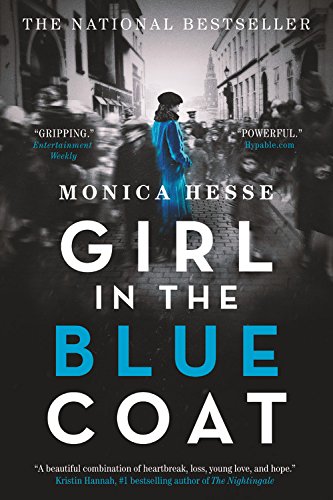 With school starting again, many students may feel stressed with all their classwork and extracurriculars. What better way to relax than to lose yourself in a book?
If you are in the mood for a heart-pounding mystery, Girl in the Blue Coat by Monica Hesse is a perfect choice. Set in 1943, Amsterdam, the plot features a girl named Hanneke who earns extra money for her family by working on the black market. One day, one of Hanneke's neighbors asks her to locate a Jewish teenager who has gone missing, and the resulting search forces Hanneke to find closure over her boyfriend's death and best friend's marriage, work with the anti-Nazi resistance, and reevaluate what it means to help others without personal benefit. The historical accuracy creates a sense of being transported to 1943 Amsterdam. While readers should be aware of the references to the Holocaust, the book's powerful message will stay with the reader long after the book ends.
If you are interested in a story similar to your life, try Six Angry Girls by Adrienne Kisner. Emilia (Millie) Goodwin wants to be a lawyer, and Raina Petree, an actress, creates an all-girls mock trial team when their school's all-male mock trial team refuses to let Millie compete. Meanwhile, Raina's boyfriend dumps her, which upsets her so much that she quits theater. Throughout the mock trial season, they and their team learn what it means to be an activist, to be yourself, and to change the world. You can still enjoy this book even if you are not in a mock trial. This book is hilarious, the characters are relatable, and the plot is fast paced.
Finally, if you want a sweet tale of friendship mixed with an exciting adventure, try Codename Verity by Elizabeth Wein. A secret agent with the codename Verity is captured in Nazi-occupied France during World War II. To keep herself alive during interrogations, she tells her captors how she met her best friend, a pilot named Maddie. Then, the story shifts to Maddie's perspective and account of how she plans to rescue Verity. The story leaves a powerful impression and is nearly impossible to put down until the end. Again, the story does include references to the Holocaust, but the friendship between Maddie and Verity leaves the reader feeling heartbroken but empowered at the end of the book.
No matter how busy you are, you can always find time to enjoy a new favorite story. Which book is calling your name this fall?