October Book Reviews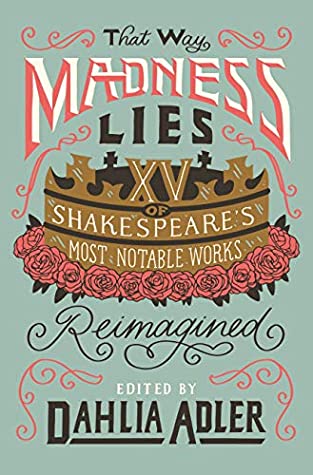 October is National Reading Group Month, so to celebrate, why not check out some classic novels as rewritten by contemporary authors?
For fans of Shakespeare's plays, try That Way Madness Lies, an anthology edited by Dahlia Adler. This book contains fifteen short stories written by a diverse group of authors, all based on Shakespeare. For a taste of what you will find in the book, the stories include Hamlet retold with vampires, Romeo and Juliet as a series of text messages, Much Ado About Nothing retold in space, and more. As with any anthology, every reader will have their personal favorite stories and stories they do not enjoy as much, but overall, the short stories in this collection are beautifully written. You will enjoy this book even if you have never read a Shakespeare play outside of English class.
If you are more interested in swashbuckling stories like The Three Musketeers or Treasure Island, try Valiant Ladies by Melissa Grey. Eustaquia (Kiki) de Sonza and Ana Lezama de Urinza are best friends living in Potosi, Peru, in the seventeenth century. They fight crime every night until Kiki's brother is murdered. The two must uncover the conspiracy that killed him. Meanwhile, Kiki is engaged to an arrogant boy as she and Ana fall in love. This book is highly suspenseful, and readers cannot help but guess who murdered Kiki's brother. While some of the dialogue was glaringly inaccurate for the period, the story is engaging. Ana and Kiki hold your sympathy, and the ending is satisfying, so if you love adventure stories, try this book.
Finally, for fans of F. Scott Fitzgerald's The Great Gatsby, try Self-Made Boys by Anna-Marie McLemore, who also wrote one of the stories in the Shakespeare anthology. Nick Caraveo is a transgender Mexican American boy who moves to New York City during the Roaring 20s, hoping to make money for his family. Nick meets his new neighbor, Jay Gatsby, who wants to impress a girl named Daisy Fay through a series of impressive parties. However, Daisy's racist boyfriend, Tom Buchanan, does not know that Daisy is Nick's cousin, passing as white. When an insurance scandal leads Nick to believe that Tom wants to hurt Daisy, Nick agrees to help Jay win her heart. The unique relationship between Jay, Nick, Daisy, and Daisy's friend Jordan made this book a thrilling and insightful read. The suspense of the insurance scandal also keeps readers guessing until the end of the book. You will enjoy it if you enjoy period romances and books about self-discovery.
Reading groups do not have to be boring with these updated classics. Even if you have never read the novels or plays these books are based on, the updated versions are engaging enough to enjoy without knowledge of the original. Happy reading!