February Book Reviews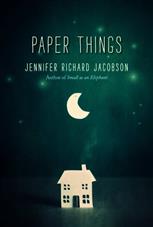 Whether you're looking for your next favorite book or just trying to get out of a reading slump, here are some good reads that you may not have heard about:
Paper Things by Jennifer Richard Jacobson
Although it is told from the perspective of a fifth grader, Paper Things deals with many darker themes well suited for an older audience. It deals with family, friends, tradition, and so much more. The story follows Ari, a girl trying to fulfill her late mother's last wishes. One wish is for Ari and her brother Gage always to stick together, and the other is for Ari to stick to family tradition by attending the local middle school for gifted children. However, when Gage decides to leave their guardian and take Ari with him, things slowly start falling apart for Ari. Without a permanent home, Ari struggles with many aspects of her life. She can only find stability in her collection of paper things, but will that be enough?
The Rithmatist by Brandon Sanderson
In this story, certain people, called Rithmatists, can make chalk drawings come to life. Main character Joel wants to be a Rithmatist more than anything. The only problem is that most people become Rithmatists at eight, and Joel is sixteen. Still, he holds onto hope. When young rightists in his school suddenly disappear, Joel gets into the investigation, and with his new friend Melody, they might find the culprit of these disappearances.
This book contains some fantastic battle scenes, features a lovely narration style, and has a good combination of severe and humorous parts. There are also diagrams of the different arithmetic lines mentioned in the story for readers to reference. However, be warned that the sequel to this book has yet to be released.
Worlds of Ink and Shadow by Lena Coakley
Worlds of Ink and Shadow is a fictional story based on the Bronte siblings. Some well-known works by the Bronte siblings include Jane Eyre by Charlotte Bronte, Wuthering Heights by Emily Bronte, and Agnes Gray by Anne Bronte. The book is based on the writings that Charlotte, Emily, Anne, and their brother Branwell wrote as children. This story, told through four different perspectives, skillfully weaves factual and fictional information. The plot revolves around the power these four siblings hold to travel into the stories they write and escape the real world. However, there is always a price they must pay each time they cross to the other side. This book is a great way to learn more about the Bronte siblings, and I highly recommend it to people who like to write.