The Snow Day Retreat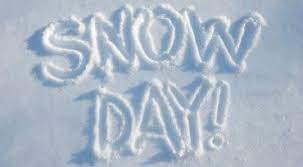 Cheers could be heard all across the school during announcements. The hallways were buzzing as the school day came to an end. That night, alarms were canceled. The dread for the all-school retreat many was reeling disappeared like a magic trick. Because of the coming snowstorm, school on March 3 was canceled, and so was the all-school retreat.
The funny thing is, barely any snow fell that day. Nobody is complaining, however. A day off is a day off! There was only enough snow to stick even the next morning, so normal snow day activities like sledding and snowball fights weren't an option. However, many students made the most of their last-minute day off in other ways. Everyone was happy about the unexpected day off, whether they seized the opportunity to catch up on homework or sleep.
Students must attend a retreat to move on to the next grade level. The snow day does not mean that this requirement has been waived. The retreat will soon be rescheduled to a new date. As this article is being written, the new date still needs to be discovered, but keep an eye out for the new date!