Weather Outlook for the Week of Homecoming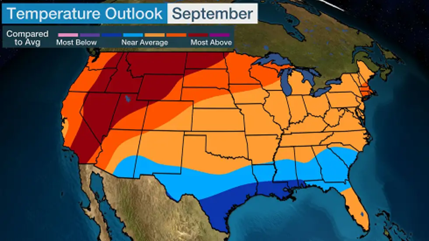 Weather Outlook for the Week of Homecoming
Monday the 25th kicks off the week of Homecoming. This is a week well looked forward to due to the fun themes and excitement leading up to the first dance of the year. Overall, this week will be a beautiful week weather-wise, which is important for those planning their awesome outfits. In general, the week will be warm and mostly sunny, with a high of 73 degrees on Monday, which surprisingly is average for this time of year. Most people think September brings cooler temperatures, but according to The Weather Channel, there is still lingering warmth. This pattern is present throughout the week.
The Homecoming football game is a big hit among the students as well. The evening hours are going to be a little chilly, with a low of 51 degrees, so a jacket is recommended.
This year, Homecoming is on Saturday the 30th. This is a day where the entire school gets to dress up in fancy clothes and party with their friends. It is a day that we all look forward to, a day where the slightest slip could ruin the night. However, we're in luck, there is no rain in the forecast for Saturday! At least we won't have to worry about slipping on the pavement! The day of Homecoming in general is beautiful: partly cloudy with a high of 71 degrees. Now, it might be smart to bring a jacket on your way to the after-party, for the nightly low is only 52 degrees.
Keeping the weather in the back of your mind is always a good way to stay prepared in any situation. It is a great way to ensure you get the most out of your experiences.
Wishing you a great homecoming, rain or shine!
Works Cited: September Temperature Outlook: Lingering Heat Possible In Parts Of Western, Northern U.S. | Weather.com
New Lenox, IL 10-Day Weather Forecast – The Weather Channel | Weather.com